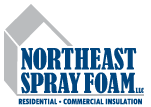 Welcome to Northeast Spray Foam, LLC. We are an authorized applicator of expanding polyurethane foam insulation and polyurea coating products. Based out of Bethlehem, Connecticut, we provide insulation services for residential and commercial construction throughout all of Connecticut, southern New England and the Tri-State area.

Whether it is a new construction or renovation of your home or business, spray foam is the preferred weatherproofing insulation method. Foam insulation is a smart alternative that reduces energy costs, provides the highest practical levels of R-value per inch, effective air sealing, moisture management and guarantees a higher performance of all insulation methods.

Please browse through our website to learn about our services and contact us with any questions, to request information, to schedule an appointment or if you would like us to submit a bid on an upcoming project. We look foward to hearing from you.